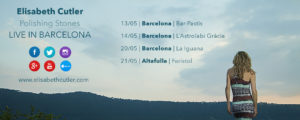 As promised in the interview with Barcelona Music last March, Elisabeth returns to Spain for a series of acoustic concerts. This time the songwriter will perform as a soloist accompanied by her splendid Parker guitar. Here are the dates:
13/05 | Barcelona | Bar Pastis
14/05 | Barcelona | L'Astrolabi Gràcia
20/05 | Barcelona | La Iguana
21/05 | Altafella | Faristol
In the next days all event information will be available here and on BandsInTown.
See you in Spain!