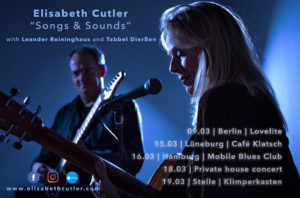 Hello Hallo German friends,
Here we are in 2018! I have started this new year well with a new collaboration with guitarist, Leander Reininghaus (Berlin). Leander has brought his magic and versatile touch to many musical projects as a versatile soundscape creator, covering folk to jazz-rock to electronic improv, and I am truly pleased to have the opportunity to work with him on the stage and in the studio. I believe that with this new partnership my songs will reach another level of sound and transcendence, also in live-concert experience.
I am now arranging and recording new songs for my upcoming 7th album-disk of original compositions, produced by Filippo De Laura, to be released later this year 2018, and accompanied by other great musicians. I am very happy with the new songs that mark some changes for me as an artist stylistically in subject matter and sound, while still maintaining my original identity and a songwriter, guitarist, and singer.
The themes and stories in the lyrics of these songs come from the self-reckoning I've realized in the past 2-3 years of my life; from my inner perspective of personal strength, solitude, dreams and healing, as reflected in the macro spectrum of life, humanity, love, and current events and technology. The music is challenging and complex enough! I look forward to discovering and developing the sound of each song… to be ready for release in late 2018.
Hear and taste a sound of the new songs with Leander Reininghaus in our brand new LIVE promotional video, "Living Room Live" (on website Homepage). Shot by Ari Takahashi in my home in Italy.
I hope you can make it out to hear a show on our "Songs & Sounds" tour (Germany) 2018 March 9-19.
Bassist Tabbel Dierssen (Lüneburg) will join us on most shows.
Thank you for your interest and continued support!
Keep the music LIVE with LOVE,
Elisabeth