As we settle into the new year 2020, it's a good time to reflect upon my journey of the past six months, since the release of "Silence is Rising" (2019 TASLA/Galileo), my seventh album of original songs, produced by Filippo De Laura. I wish first to send out greetings of peace and goodwill, and good luck to all for 2020! Now we gather our energies and prepare for the first concert tour of the year, the "Spring is Rising Tour 2020", March/April, in duo with Leander Reininghaus (electric guitar/Berlin).
Since the Summer Solstice, 21 June, 2019, release day of "Silence is Rising", I have felt deeply grateful and immensely pleased to have yet a seventh chance, to bring a new creation into the world of music, and I am touched by the generous and sincere reception by the public and the press. On the other hand, it breaks my heart to release a beautiful and indelible project like Silence in a chaotic climate of instant gratification, digitalization, and imminent streaming vaporization, and general devaluation of music. It's easy and boring to complain and blame, rumminate and cogitate, so in the meantime, I prefer to look for solutions and ideas of how to bring Silence to the people.
"'Silence Is Rising' is an adult singer/songwriter album with preciously accomplished arrangements… there's this ephemeral, warm jazz vibe, that gives these varied songs small, but distinctive turns. Folk, pop and a little jazz come together in a calm way, laid back in harmonically perfect music – just the right thing for a relaxed Sunday afternoon." Joe Whirlypop / Glitterhouse.
"A voice full of character and warm timbre, music that goes straight into your ears; wonderful, highly poetic and substantial lyrics. Fine melodies, well-balanced acoustics, rhythm and swing […] "Silence is Rising" has again earned our title, the Musenkuss, through the successful unity of music and lyrics." Frank Becker / Musenblätter.
The best way I have found to reach out and connect with real human beings, is live performance; a collective musical and emotional experience where music brings people together and touches them on all levels of mind, body and spirit. Music soothes and invigorates, it's raceless and classless; and, as in silence, we are not divided by language, we are connected by a symphony of sound. I utterly enjoy and live for these moments and memories.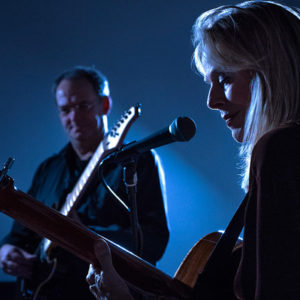 Leander Reininghaus is the perfect collaborator for this endeavor, as the soulful, tasteful, and under statedly powerful electronic guitarist that he is, we have developed our duo sound into more than the sum of its' two parts. We have spent the last year concentrated on exploring and deepening the song arrangements, and in the process our sound has taken shape. I feel we bring a
fresh and original approach to the singer-songwriter genre; songs with sounds, emotions with literate interpretation. Our other-worldly, down-to-earth textural sound and content has been described as, "Original American songwriter music; a mixture of folk, jazz and spherical, symphonic sound".
I believe in what we are doing, and we thank you for coming out to the shows and we thank the venue operators who invite us onto their programs! This encourages us to recognize that we really do have something special and unique. Some of our favorite venues are "Salon" concerts in peoples' homes; so if you, or someone you know, would like to have us for a "private" show, please contact me from my website. This year I wish to also present our shows in wellness and rehab centers, in hopes to help heal and stimulate people who are in need of a fresh perspective found in music and poetry.
After living outside Rome, Italy, for seventeen years, this is the first time I have translated an entire album of lyrics into the italian language! In December 2019, I printed booklets for the audience for the five concerts we did in Italy. It was a great success all around, for the audience and for me as a lyricist; to have a common understanding; a worthy project that may become a book of poetry. A big GRAZIE to my dear italian friends who helped with the translations. Now I will print lyric books in the original English language for the Spring is Rising Tour 2020 in Germany.
"… extreme refinement that sees her pursuing the delicate pop contaminated by jazz nuances that represents her artistic signature… this singer-songwriter [is] an elegant exponent of a musical genre that, basically, is timeless." MusicaMag / Giorgio Pezzana.
Of course, we could always spend more time sitting at a computer, falling into the bottomless black hole of endless digital possibilities with which to reach a few, and perhaps a million, human beings; we are all searching for something there, it seems like it holds a promise, an answer to our dreams. Thanks to all of you who have watched and followed and understood what I am doing! My first released single/video, "No One's Woman", has over 1,000 views on YouTube. And I want to share it with many many more women still. Same goes for the
"The Making of Silence" EPK video; both are on my Homepage and YouTube. Please consider sharing these videos with someone you think would appreciate it, thanks! And if you're looking for a special and original gift for a friend, the gift of music is eternal… see links below 😉
"Silence is Rising… a reflective and mature album, composed of a handful of intimate folk-pop acoustic ballads with warm tones… meditative. a perfect balance of silence and sound that cannot but be the result of reflection, time and care. Strongly recommended."
MusicMag / Alessandro Hellman.
I wish to mention these dear colleagues who support Silence, especially the creative team in Rome: Filippo De Laura (producer/ musician/ New Yorker), Ari Takahashi (photographer, videomaker, audio technician), Rita Giacalone (Bitbazar – website design), Adriano Natale (Capture Studio Roma – internet promotions / marketing and everything else person), and the fabuous italian musicians who played on Silence: Marco Siniscalco (bass), Andy Bartolucci (drums), and Fabiano Lelli (classical guitar) and Delta-Top Studio. Che squadra! Then there's the German contingent: Leander Reininghaus (elec guitar), Christian Pliefke (TASAL / Galileo), and Klaus Stracke (KS booking). Thank you all for your belief and support to make the Silence rise!
We look forward to seeing you and hearing from you soon. In the meantime, listen to the music in your soul, it never stops,
Peace,
Elisabeth