Silence is Rising
Elisabeth Cutler's NEW ALBUM
Welcome to My World Music!!
Upcoming shows
6:00 pm

Teatro Bernini, Piazza San Nicola - Ariccia (RM), Italy

8:00 pm

Giulianello (LT), Italy

10:00 pm

Fraschetta Blues

Via Carlo Cattaneo, 48 - Nettuno (RM), Italy
facebook

8:00 pm

Nienburger Kulturwerk - Hutkonzert im Bistro

8:00 pm

Store Okseø

St. Okseø 1, DK-6340 Kruså Denmark
Der Eintritt beträgt 20,- € / 150,- kr inkl. der Überfahrten!
www.ochseninseln.de

8:00 pm

MONDBASIS Galerie & Barcafé

8:00 pm

Radio Zusa - Carsten Wieboldt 'Hörbar' Show - Live interview

8:00 pm

Gasthaus Alte Welt

8:00 pm

Local Bar

1190 Vienna, Heiligenstädterstraße 31, Vienna, Austria
Entrance: 15€, students 10€
www.local-bar.at

Private House Concert - Kelheim, Germany

8:00 pm

Kultur-Stadl Café

Raiffeisenstr. 4, 86946 Vilgertshofen-Stadl, Germany
Reservations: (+49) 08194 9315986, Email: hereinspaziert@kultur-stadl.de
Entrance: 14€   www.kultur-stadl.de

8:30 pm

Piazza Montevecchio 5, (Pz Navona) 00186 Rome, Italy

Reservations: +39.06 687 9419, email: info@arciliuto.it
Entrance: 12 € - reduced 10 €
www.arciliuto.it

10:00 pm

Fuori Menù

Via S. Ambrogio, 3 - Albano Laziale (RM), Italy
Fuori Menù

Acoustic Guitar Meeting; Demo Room Fishman/EKO/Martin

9:00 pm

Lazio TV - Canale 12

12 mid-night, Harborough (UK) FM Radio

10:00 pm

Caffè del Cardinale

7:00 pm

Suncave Gardens

Via Delle Grotte 13 (between Bracciano/Via Aurelia; intersection Via Di Castel Campanile and SP5C Via Mattei)

9:30 pm

Hotel Scaccia Pensieri

8:00 pm

Private House Concert

8:00 pm

Bistro Journal Schwanewede

8:00 pm

Private House Concert

Blomberger Song Festival - Kulturhaus "Alte Meierei"

Druid

Theodorstrasse, 8, 28219 Bremen, Germany
Tel: 0421-391003, +49 1578 8187651

8:00 pm

Libertys Harpstedt

8:00 pm

Kleinkunstbühne zum Roland

8:00 pm

Café Duckdich, Engelsburg Studentenzentrum

8:30 pm

Jazzclub Armer Konrad

4:00 pm

Bluebird Café

Breite Str. 24, 16559 Liebenwalde, Germany (Berlin)
Reservations: Tel: +49 033054 869 665, Email
Entrance: 12€    www.bluebirdcafe.de
No One's Woman

Elisabeth Cutler

Alchemy of Being Human

Elisabeth Cutler

Table For One

Elisabeth Cutler

Untouchable Man

Elisabeth Cutler

I Had a Dream

Elisabeth Cutler

Awakening

Elisabeth Cutler

A Real Human Being

Elisabeth Cutler

Silence is Rising

Elisabeth Cutler

Sanctuary

Elisabeth Cutler

My Wildest Dreams

Elisabeth Cutler
Live in Concert Promotion Video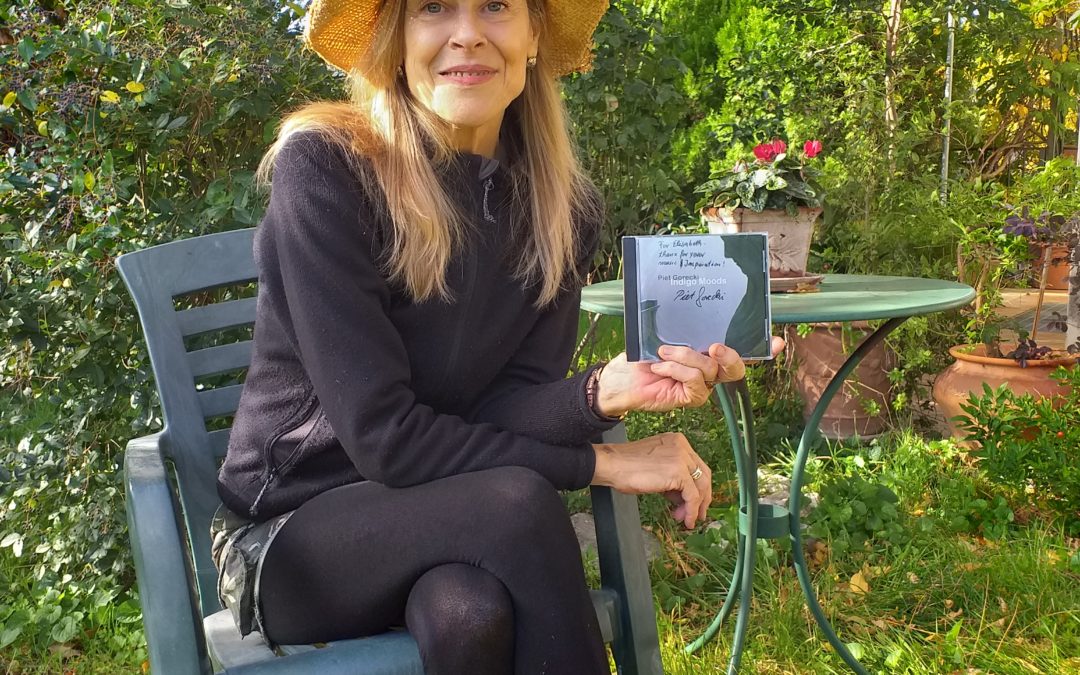 I'd like to introduce my friend Piet Gorecki (piano, vocals), and his wonderful songs and music! Piet is from Bremen, Deutschland, and he has released a new rocking and grooving album, "Indigo Moods"! I am honored that Piet chose my song, "We Already Know" from my...